Working in partnership with like-minded organizations, TIRF co-creates opportunities that address systemic issues, gaps in services, and most importantly, meet the needs of young people.
As a values-driven sport-for-development organization, TIRF builds on evidence-based practices supported by regularly collected data to help grow the game and have a meaningful impact on the lives of young people.
MLSE Foundation is building community through rugby in Regent Park.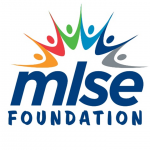 Thanks to MLSE Foundation, children and youth living in Regent Park, Moss Park, St. Jamestown and Cabbagetown communities now have their own TIRF Community Rugby Program. The TIRF Regent Park Community Rugby Program, will provide more than 1,700 children and youth living in the downtown east communities with opportunities to participate in rugby and youth development programs. This partnership will give downtown east youth access to all levels of rugby and the opportunity to become leaders in their community.
www.mlsefoundation.org
@MLSEFoundation
#TIRFregentpark
Community Partnerships
TIRF is approved to provide coaching, non-contact flag rugby curriculum, PHE training, and additional support to the following organizations:
City of Toronto: Parks, Forestry, and Recreation
The Toronto Catholic District School Board (TCDSB)
The Toronto District School Board (TDSB)
Toronto Community Housing