SUMMER EMPLOYMENT
For the following jobs, all candidates must be Canada Summer Jobs Eligible (between the ages of 15-30 and legally eligible to work in Canada.
WHY WORK WITH TIRF
Toronto Inner-City Rugby Foundation(TIRF) offers rewarding employment opportunities for people who genuinely care about the well-being of children, youth and community. Our dedicated team of professionals, and network of World Rugby certified coaches, mentors, and trained volunteers, work together to help young people achieve their athletic and academic goals.
Our team is determined to create inclusive spaces for sport and guided by the World Rugby Values of:
Discipline
Respect
Integrity
Passion
Solidarity
We look forward to getting to know you and learning about how you can help build community and contribute to our dynamic team.
Working with TIRF not only will you be bringing your love of rugby to children in the community, you will also get to:
participate in team-building
have networking opportunities
be able to attend TIRF's signature professional development series
become part of TIRF's diverse and growing alumni network
Available job descriptions are available below. Simply fill out the online application form.
Start Date: April 24 - Offsite Retreat Training Week
Rugby Development Coordinator
Operations & Membership Coordinator
Regional Team Supervisors -
Start Date: May 1 - Downtown Training Week
Rugby Sport Counsellors
High School Coach/Junior Rugby Coaches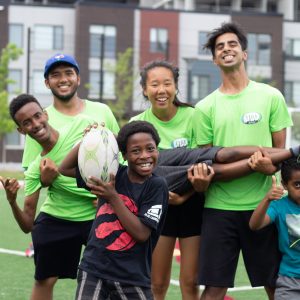 EMPLOYMENT FOR 2023
We are hiring for the 2023 spring & summer rugby season. The following are some of the positions we may be looking for:
Contact us for more information.