Today we celebrate Arielle Dubissette-Borrice, TIRF Rugby Supervisor. 
With plans for retirement from the sport, Arielle Dubissette-Borrice is going strong in her role as a Rugby Supervisor. As a former Team Canada player, Arielle's athletic career has spanned both the sevens and fifteens circuits. For five-years, Arielle spent her time training with Rugby Canada in British Columbia. Now, she is doing a 'cut and switch' and changing her focus to completing her post-secondary education.
"I'm focused on doing what makes me happy. I have sacrificed so much (for rugby). Now I am able to focus on finishing my program and creating my future." The Western University Criminology major is looking to head into law enforcement. Arielle's career choice was inspired by her high-school coach. Her coach, who also worked as a probation officer, allowed Arielle to volunteer with her.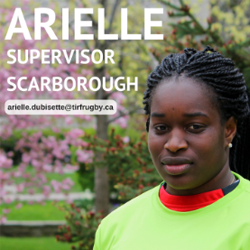 With her coach's guidance and support, Arielle volunteered and developed a passion for assisting people to help turn their lives around.
With hopes to work with the Police Service's School Resource Officer program, Arielle has the drive, determination, and hardworking characters that this job requires. Qualities, she says, she was able to learn from her role model; her mother.
Both a nurse and a teacher, Arielle's mother has played an important role in motivating her to reach her goals. "She's the hardest worker I know. Raised me while she was a at 17-year-old single mother. Balance two jobs. She never complained. She just worked through it."
With what some have called an 'intense' style of coaching, Arielle brings her knowledge of the game, and her views on encouraging physical activity with children, to each Rookie Rugby session.
As a teen, Arielle struggled with self-esteem and body issues. Thankfully she found an outlet and her confidence through her involvement in sport. Wanting other young girls to have a similar experience, Arielle works hard to involve more girls in sport and group fitness activities. "I was gaining a lot of muscle very fast. There's this stigma that [rugby] girls are too masculine. I found that a lot of males weren't attracted to muscular girls."
Now, Arielle takes pride in her athletic physique. She looks up to other strong female athletes, like Serena Williams, who mentally and physically dominates in sport. "Serena's fighting stereotypes. She's a black athlete, in a predominantly white sport, and on top of that she's a physically strong powerhouse."
Anyone who has had the opportunity to either train, play, or practice with Arielle, can attest that she is confident in her ability as a rugby player. This was not always the case. In the beginning stages of her athletic journey, at age 14, Arielle had the skill, but lacked the confidence to further her rugby career.
Arielle is a very much a goal-orientated person. She goes through life armed with a checklist to keep herself on track and accountable. The one goal she has yet to cross off her list: a trip to the Olympics. "Not going to the Olympics was my biggest setback. All the hard work and sacrifice I put in made me regret taking time off school. I still have a little longer to wait, but soon my probation to transfer and play for Team Jamaica should be up."
The setback was a hard pill to swallow. In the meantime, Arielle continues to train with the Toronto Scottish RFC, coaches, volunteers and builds up the confidence of other players.
Arielle Dubissette-Borrice exemplifies the passion, drive, and intensity that TIRF looks for in successful Rookie Rugby facilitators. Advocating for even more determined female leaders, Arielle has been nurturing the TIRF values in this upcoming cohort of TIRF7s rugby athletes. Whether it is on the field, during a match, or teaching kids the fundamentals of Rookie Rugby, Arielle coaxes the best qualities out of everyone she works with.
Arielle is the type of person who will push her fellow colleagues, or teammates, to new heights. Committed to achieving the unachievable, and always striving for greatness: to simply put it, there is no stopping her.
Want some rugby training tips? Watch Off Field With Arielle on the TIRF YouTube channel.
Written by: Tash Cyrille