Discover the amazing young people that made our 2018 Community Rugby Program possible. Today we celebrate Florence "Flo" Kuan, TIRF Rugby Facilitator.
Meet our fantastic 2018 Summer Dream Team member Florence Kuan aka "Flo". This was Florence's first summer working with TIRF and she certainly made an impact on kids, her peers, and in the community.
You may have seen Florence in-and-around schools, camps downtown core and weekly at the Regent Park House League, funded by the MLSE Foundation, over the summer. She's a phenomenal rugby facilitator who strives to help others actualize their potential through rugby.  
Florence was extremely excited to join The 2018 Summer Dream Team and introduce kids to the sport. Reflecting on her own experience, as both a high-school and club rugby player, she recognized that it was with, because, and through rugby that she had opportunities that she would not have otherwise experienced.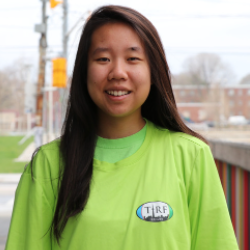 At every demo, after-school flag-rugby practice or house league session, Florence was on the lookout for a younger version of herself who could use some help and kind encouraging words from a coach.
Florence was first introduced to rugby through a high-school teacher at Harbord Collegiate Institute. Unfortunately, after only playing one-year of high-school rugby there was a lack of interest from other female athletes at her high-school to continue playing. While the team crumbled Florence's interest in the sport intensified.
Thankfully her caring coach introduced her to TIRF where Florence had the opportunity to train and play rugby at a competitive level. Through TIRF Florence found her "forever-team" and her first Club, the Toronto Nomads. She was amazed at the incredible comradery that rugby community provided her.
When she first started playing, Florence was generally scared of sports. It was the positive reinforcement from her coaches that helped her push-through and discover herself as an athlete.
Florence attributes her leadership and teamwork skills to her dedication to playing rugby. Rugby has kept much more than her focus, Florence carries the values of World Rugby with her and applies it to other aspects of her life. This, she stated, was what led her towards success in her academics and extra-curricular interests.
In 2017, as a first year university student, Florence was selected as a TIRF Scholar and was a recipient of the Doncaster Scholarship Award. Now that she's entered her sophomore-year at Wilfrid Laurier University, she feels more confident in taking on additional challenges and extracurriculars throughout the week. Inquisitive and determined, Florence always strives to put herself in a place of continual learning and self-improvement.
In her spare time, Florence likes to stay active by participating in recreational Muay Thai and sailing in the summer months. Her next athletic goal is to train herself to become a marathon runner in the future. Wherever she goes and whatever she does, we know that it will be done with the highest-level of attention, tenacity and a huge smile.
Written by: Jonas Medina