Discover the amazing young people that made our 2017 Summer Rookie Rugby program possible. Today we celebrate Zulfiqar "Zulfi" Sheikh, TIRF Rugby Supervisor.
Zulfiqar "Zulfi" Sheikh truly represents TIRF's ethos of "building community through rugby and rugby through community." Zulfi has been involved with TIRF since
its inception; first as a player, and now as a 2017 summer staff member. Zulfi is young man who is thoughtful, resolute, and community-minded.
The thrill of playing a new, fast-paced,
and physical sport initially drew Zulfi into rugby. It was, however, the multi-dimensional community benefits that fed and sustained his interest for the long term. Since then, he has taken full-advantage of the opportunities provided to him through rugby. Opportunities and experiences that wouldn't have been possible if it wasn't for a waning high-school football program and an enthusiastic coach at Marc Garneau Collegiate Institute (Marc Garneau).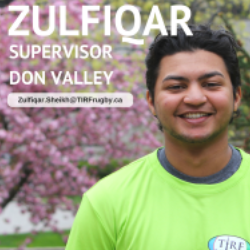 "If it weren't for Coach Sutherland, I wouldn't be playing today. I really wanted to stick with the traditional sports like basketball and soccer. Rugby was an unknown sport to pretty much everyone in my life. It was a bit of a risk, but it definitely paid off."
Taking risks is not new for Zulfi, or his family. Zulfi was only an infant when his parents arrived in Canada from Pakistan in 1999. His family accepted the
challenge of raising a family in a new cultural landscape. Admittedly, the shift to Canadian-life was much smoother for him than that of his parents. As he grew up, he observed the difficult transition, and sacrifices,
made by his parents.
"They had to overcome so much to make it here. They took a chance on Canada, and now my whole family benefits from the positives associated with living in this beautiful country."
An important part of Zulfi's journey to self-discovery came through his deepened involvement in Toronto's thriving rugby culture and the game.
"I think for a lot of Canadian kids, trying rugby is a risk. It's a fringe sport, it's very physical, and it takes some convincing to get them to give it a try."
Zulfi's parents, witnessed the passiontheir son had for the game, and decidedto take another risk. They bought him his first pair of boots after he made his high school team. Coming from a family of positive risk-takers, that risk also paid off. Zulfi works hard with parents, community members, and partners to pivot misconceptions and help others take positive risks with trying the sport.
"Despite the physicality of the sport, it really is a game of respect and integrity. There is lots of potential for growth within the rugby community if kids, and parents, are willing to just give it a try."
By sharing his love of rugby, and technical knowledge, Zulfi has been sowing the seeds to help grow the game for several years. Even as a senior student at Marc Garneau, Zulfi worked to support the school's rugby legacy by co-coaching the junior boys and girls teams. Building on that, he now helps coach the Toronto Buccaneers RFC (The Bucs), the local rugby club he has proudly played for, and been a member of, for the past six years.
"The Bucs have been good to me. I just want to play for as long as I can, maybe crack the first team, and give back to help us get better."
Because of the strength of his character, Zulfi has grown into the epitome of what the rugby community fondly refers to as a'good club player'. This term is widely used to describe someone regularly puts their heart, and soul, into their club.
"Even when I can no longer play the game, I want to be around to help new crops of kids coming up in the Bucs. It's important to help them feel at home and grow into strong players. This is vital to long-term success of any club."
Zulfi is a steadfast volunteer, committed player, and a brilliant role model. As a TIRF ambassador, Zulfi is doing what he can to raise public knowledge of rugby in the city. This past summer, Zulfi continued to help the growth of Canadian rugby through his Canada Summer Jobs work experience with TIRF.
"We're breaking through a wall of built up preconceptions and stereotypes. I feel exhilarated every time I can change one person's perspective on the sport."