This is how TIRF is making minutes matter.
We're celebrating international women's day by highlighting some of our fierce and fearless female athletes. Rosalee Graham, 7s Forward, penned this reflection journal entry at the end of her 2018 tour with the TIRF 7s team.
TIRF provides programming, and experiential opportunities, to transform the lives of young people through rugby. We believe in providing young people with concrete, pro-social, shared learning experiences along with opportunities for reflection. Through intentional programming, enabled by supportive caring adults, we broaden the world-views of young people. With each practice, tournament, tour and workshop, they add positive experiences to our personal knapsacks that they will carry with them through life.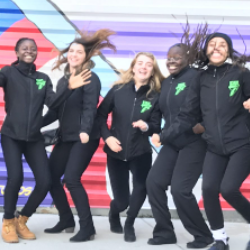 In November 2018, TIRF participated in the New York 7s Tournament, the largest and longest running sevens tournament in the USA. Here's a reflection journal from one of TIRF's 11 female Rising Stars athletes.
Dear TIRF,
I want to start off by thanking TIRF and all the sponsors for making this trip possible and for giving me the opportunity to be a part of the New York 7's Tour this year. It was my first-time visiting New York and it was an experience engraved in my memory and stored in my heart.
On the tour this year we got the chance to see amazing monuments such as Lady Liberty which was a mind-blowing experience. But just before this, we got to attend and observe the New York Stock Exchange. This was another level of statistics, and business I was not prepared to see on this tour. Not only was the food great, but the people were very welcoming and answered all the questions, even the ones you were asking in your head.
Another gut-wrenching place that we visited happened to be the 911 museum. Seeing this tragedy on the internet, the news, and in textbooks is a completely different pill to swallow than being there and seeing the thousands of names that belonged to the people who affected by the attack. The air became thick at one moment and I turned to my fellow teammate Selena and said "This is so surreal. To actually see the names in front of you and not a number is crazy". That was probably a very humbling experience for all of us and I will definitely never forget.
This tour not only allowed me to play against different teams with different styles but allowed me to witness the people and culture of New York. Playing in the tournament was another emotional rollercoaster. Dealing with the weather and wanting to do good at this tournament was a constant battle. But we overcame it together as a team and really supported each other through the mistakes made on the field to then laugh about them off the field. This team introduced me to new people and a new way of approaching the game of rugby and I am forever grateful for TIRF and the community they implement onto us athletes.
Once again, thank you TIRF for giving us a way to travel and play the sport that we love. But most importantly to build connections and experience different walks of life we come across along the way.
2018 TIRF 7s - U18 Girls