This is how TIRF is making minutes matter and how you can help.
We're celebrating international women's day by highlighting some of our fierce and fearless female athletes. Michelle Chen, Funding their Future bursary recipient, penned this reflection journal entry at the end of her 2018 tour.
TIRF provides programming, and experiential opportunities, to transform the lives of young people through rugby. We believe in providing young people with concrete, pro-social, shared learning experiences along with opportunities for reflection. Through intentional programming, enabled by supportive caring adults, we broaden the world-views of young people. With each practice, tournament, tour and workshop, they add positive experiences to our personal knapsacks that they will carry with them through life.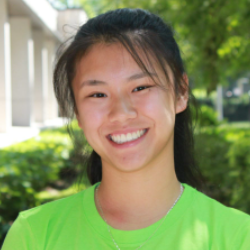 In August 2018, TIRF, through the support of Barb Di Nardo's Funding Their Future event, supported six (6) TIRF Female athletes on the journey to representative rugby.
Dear TIRF,
The Eastern Canadian Championships tournament may have been the mentally hardest tournament I have ever attended. Week long rugby tournaments are always physically and mentally hard because you are expected to perform at the highest standards day after day, while your physical abilities and health diminishes by the day.
It is mentally tough to perform your best the day after a bad game because you go into the next game carrying the negative thoughts about what you did wrong the previous game, resulting in another bad game. This is a vicious positive feedback loop. It takes a lot of mental strength to compartmentalize each game and each day. You must learn from your mistakes and use it as fuel to improve in the next game to move forward in the tournament.
This tournament was set to be very physically and mentally challenging due to the fact that we played twice in a day. This meant the turn around time for having a bad game shortened and physical recovering time shortened and would become harder to play the day after a double header.
The positive energy of the tournament, my team mates, and my coaches were contagious and I could not help but have the most memorable rugby tournament to date. The unified drive to prove ourselves in the tournament was undeniable and the energy was infectious. In this tournament, I learned what it truly meant to be a team. It was in my time of mental distraught that I realized I could not get through the tournament on my own.
My team mates are there for me to lean and depend on. They were the reason I got through the week, they are more than just team mates, they are family. You fight together on and off the field and rely on each other to pick each other up during and after game. It was an honour to be able to be part of the leadership group for such a talented, dedicated, and positive group of girls. At first, it was intimidating and daunting to be asked to lead the group of girls, some of which I just met and starting playing alongside that summer.
To reflect upon the journey of turning a group of talented athletes into a team, working together, playing a few games together, and building the connection worthy of being a championship team is a very proud moment. Hoisting the cup in the air as a team was the sign of accomplishing our goal as one, in that moment, it was as if we were not individuals anymore, just a group of girls with one goal that achieved it together.
-Michelle Chen, 2018 Bursary Recipient
Want to help young female athletes discover their potential? Ask us about TIRF's Funding their Future Fund or Ruck & Maul: TIRF's Speed Mentoring Social.