Marcello Wainwright is pointed in the right direction! 
If you've visited Rugby Ontario's twitter page, you'll see an awesome photo demonstrating the athleticism and determination of Marcello. The picture, taken at the 2017 Canadian Rugby Championship, depicts Marcello with his arm outstretched and seemingly hovering in mid-air.
Like you, Marcello knew rugby could take him places. As a registered TIRF player, he participated in TIRF's Rising Stars Enhanced Training Program and played Club rugby for the Saracens. He joined the Summer Dream Team and worked for TIRF as a rugby facilitator and supervisor.
Marcello made the Ontario Blues (The Blues) Under-19 Men's team twice, and began playing for The Blues Senior Men's team in 2016. In his debut season with the team, The Blues secured their sixth MacTier Cup at the Canadian Rugby Championship. Earlier that year, Marcello was also part of University of Guelph's team that won the Ontario University Athletics (OUA) Men's Rugby Championship capping off an undefeated 2016 OUA rugby season.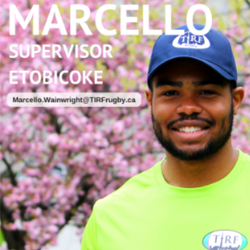 Marcello encountered a few speed bumps on the way to success. He attended trials for Ontario under 16's, but was dropped. The following year, he made the long list for the under 17's, but was cut from the traveling squad.
"(being cut from the squad)... was definitely a setback for me. I knew what I needed to work on. I just needed the right outlet to do it. I needed more focused skill development than I was getting." Marcello used the TIRF's Rising Stars Enhanced Training Program sessions and TIRF Selects Training to improve areas where he was under-performing.
The Rising Stars & Winter Academy practices offered by TIRF were a game changer. Making the under 19 squad really opened the door to The Blues for me, and I couldn't have got there without TIRF's Winter Academy sessions." Marcello has taken many such steps since beginning his athletic career, both on and off the field. His journey down Rugby Ontario's high performance pathway has led him to pursue a degree in Kinesiology.
Marcello has his eyes set on a career as strength and conditioning coach, ideally within rugby. It's clear that Marcello's love of rugby, and dedication to refining his skills, have taken him far. Along with representing the province, and playing with the Maple Leafs in January, Marcello recently joined Canada's Major League Rugby (MLR) team, The Ontario Arrows Rugby Club (The Arrows). You can watch Marcello, with fellow TIRF Alumnae Kyle Lagasca, at The Arrows' first home match on Saturday, April 14 at York University, York Lions Stadium.
Written by: Amanda Neale-Robinson