Discover the amazing young people that make our program possible. Today we celebrate Emily Huynh, TIRF Rugby Facilitator.
Over the years, Emily has had plenty of opportunity to perfect her role as the "new kid" having attended three different high schools over five years, in addition to several primary and junior schools. Her introduction to the sporting world was made at George Syme Community School (GS) where she captained the school's soccer team.
Her passion for the sport would grow beyond the walls of her modest elementary school, as a registered member of the Toronto High Park FC; where the midfielder was eventually presented the opportunity to play for Ontario Soccer's provincial team. Although, she turned the offer down. She also chose to play volleyball and channelled her inner Keke Palmer while competing in Double Dutch Jump-Rope (yes, it is a sport) at GS.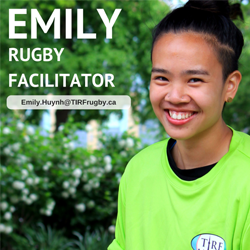 During her days spent at Rockcliffe Middle School, Emily's athletic career began to blossom, as member of the schools soccer, volleyball, basketball, cross-country, cricket and badminton teams. When asked why she chose to participate in so many sports, she replied, "It's my escape. I love competition, being part of a team, and actualise my potential through tough coaching."
The next three years of Emily's life would be spent at the Etobicoke School of the Arts and York Memorial Collegiate Institute. It wasn't until her fifth year of high school, at Central Technical School (Central Tech), that Emily got her first touch of a rugby ball. Due to the recommendation by Ms. Price, the girls Rugby Coach at Central Tech, Emily was ready to take-off on a new athletic venture.
Pencilled in to start on the flank, she was off to a great start. When first meeting her, Paul Myers, TIRF's very own rugby development coordinator, told her, "You have a good step". Admittedly, at the time, she had no idea what this meant.
Her first exhibition game resulted in a diagnosed concussion. This was her second concussion in the last few years and effectively ended her short-lived career as a rugby player. While still holding interest in the sport, Emily helps to facilitate the rugby club at Ryerson University (RU), where she studies Psychology; in hopes to one day work with people in conflict with the law. Refusing to give up on sports for good, Emily has traded in her cleats for a paddle, and is an active member of the Dragon Boat Club at RU.
In Emily's second year with TIRF, she believes that, "the organization provides opportunities for families to involve their children in a sport, that they otherwise wouldn't be able to afford." She enjoys being able to help develop the potential she sees in so many kids at TIRF's Rookie Rugby demonstrations, and reflects back on how she used to be in their shoes. She would go on to mention that, "rugby is challenging, in a good way, for many kids in the Inner-City; it helps them grow as rugby players, and as people."
Looking ahead, Emily hopes that TIRF will be able to expand its boundaries beyond the city limits and reach out to kids all over the province. When this Toronto born and raised twenty-year-old is not out paddling along the lake or in a TIRF uniform, she's either travelling the world, writing music, or in the midst of a new art project.
With family residing all over the world Emily has been exposed to many different cultures across the globe, spending her last birthday in Copenhagen, Denmark. Her other worldly travels include stays in the Netherlands, Vietnam, and New York City...oh yeah, and China.
Emily finds inspiration through participating in local outdoor activities, exploring historical monuments, and wandering through open-air art exhibitions while on vacation. It comes as no surprise that Emily loves to paint and draw. She is especially fond of flowers done in "black work", a stylised genre of art that uses strong bold lines and shading techniques. Emily hopes to develop her techniques and master the craft as a tattoo artist.
Her artistic talents extend beyond the canvas and into the realm of music. She creates, edits, and hand writes her own music with aspirations of DJ-ing all over the city. Self taught with respect to the saxophone, she is now in the process of teaching herself to play the electric guitar and piano.
The depths of Emily's interests, and curiosity know no bounds. Skillful and adept at whatever she turns her hand towards, TIRF is fortunate to have her join the 2017 summer staff team.
Written by: Zach Zorbas