Today we celebrate Selena McCuaig, TIRF Rugby Facilitator. 
Medcan, a company that aims to improve the long-term well being of its clients; is also helping to transform the lives of several youth involved with the Toronto Inner-City Rugby Foundation (TIRF).
Medcan's newly established, Power Project provides underserved youth in Toronto the opportunity to reach their goals of becoming elite athletes through first class training facilities, nutrition programs, personal trainers, and mentorship.
Part of the TIRF Rising Stars Program, head coach, Paul Myers, recommended Selena McCuaig, as a candidate for the project. Due to her high ceiling and love for the game, she was a perfect fit. Upon accepting her offer of admission from the staff at Medcan, Selena began training in the early months of 2017. Selena, along with four other athletes, trained twice a week, from January to April, attempting to enhance their athletic performance.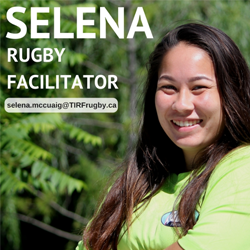 As she stepped foot on Medcan's training grounds for the first time, testing began. Various measures of physical ability were recorded, and re-tested each month to track progress. In just four short months Selena saw major improvements to her explosiveness, speed, conditioning, and eating habits.
Before starting the program, Selena was playing rugby for the Yeomen Lions RFC (Yeolions) as part of their junior program. Selena also aspired to represent the province, trying out for Rugby Ontario Women's u16 team in 2016.
Unfortunately, she did not make it. With her new and improved fitness regime, Selena decided to take a second crack at it, and just last week, she was named to Ontario's u18 Women's Development Roster!
She has also made the jump from the Yeolion's junior program, to the Senior Women's 1st team. Selena is now competing against the best female talent from across the province in the Ontario Women's League (OWL 1), and will be travelling to Calgary (Alb.) in August, to compete in the Women's u18 Canadian Rugby Championships, at the tender age of sixteen.
Selena is very appreciative of what the organization has been able to do for her, stating, "I wouldn't be where I am today if it weren't for the staff at Medcan." In addition to training sessions, Medcan provides their athletes with gear such as shirts, shorts, shoes, healthy post-workout meals, and educational sessions that touch on a variety of topics such as; injury prevention, rehabilitation, nutrition, mental focus and one-on-one mentors to help guide each participant along a successful pathway.
Medcan also goes above and beyond, when it comes to taking an active roll in the lives of their clients. For the several high school students that are currently taking part in the program, they receive access to Canada's largest private health care clinic, and the largest personal fitness studio in the city. Sport medicine and nutrition specialists (such as physiotherapists, chiropractors and dietitians) are also made available to each athlete.
Selena was lucky enough to have been re-admitted to the Power Project for a second term, and continues to train each week at Medcan's facility, located downtown at York and Adelaide. She notes how grateful she is to have been part of the program, as her life is beginning to transform into that of a young, healthy, successful female athlete.
Written by: Zach Zorbas