Discover the amazing young people that make our program possible. Today we celebrate Jessica Watt, TIRF Rugby Facilitator.
Committed to helping people in need, Seneca Sting Player, Jess Watt, is bringing a new vibe to the team. The Toronto Inner-City Rugby Foundation Rugby Facilitator is dedicated to improving the lives of youth through sport.
The nursing major candidate has always had her eyes, and heart, set on being in a caring and nurturing work environment. Originally wanting to be a vet, the thought of having to put animals down turned her away. Being able to brighten someone's day is her main goal. "The job I want is also my dream job. Helping people is something I've always felt I was meant to do." From a young age, Jess would experience the effects nurses can have on sick children. The same effect she hopes to one day be able to give, that her brother was able to receive.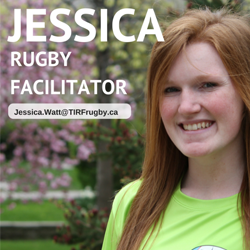 "When he was 9 nine months old, my brother had cancer. By that time, I was 7 years-old. Although I was still pretty young I remember how caring the nurses were with him. How they motivated and cheered on my brother." With successful treatments, her brother became active and well. However, a mere four years later, Jess's family would again face another battle with the disease.
"My dad had cancer two separate times. First, in his colon when they had to cut out a softball sized tumour. He went through intensive chemo and recovered. But, when I was 13, it had come back again in his liver. By that time, it had spread and he passed away six months later."
This experience taught Jess a lot, influenced the type of young woman she wanted to become and impacted her outlook on life. "Life is just too short. It's been a while now so I'm able to tell this story because I've told it so many times, but that's what I've taken out of this whole experience."
For the few months she has worked with TIRF, many could vouch for her compassion and dedication to kids and giving back to the community. Two qualities that would make her an excellent nurse.
When she's not striving for success in her future career, Jess can be seen playing rugby with the Toronto Scottish RFC. Jess's beginnings in the sport started in grade 9 days. "One of my close friends and I wanted to play every sport they had available. As soon as we walked into the gym, however, we saw all these big girls and walked right back out."
Building up their confidence, Jess alongside her friend, would eventually join the squad to lift off their rugby careers. Much like her high school start, Jess would email the Seneca women's coach for information to try out and eventually make the team.
Having worked at Mr. Sub for the past seven years, this summer Jess has the opportunity to experience working in a more versatile and active environment.
"Both workplaces are so different from the other. Both have their benefits and I like the differences between the two. TIRF lets me play a game I love while working with like-minded people who want to grow the community." While it is only Jess's first season with TIRF, she has proven to be a strong contributor to the Scarborough team. "Confident, sassy and funny" are three words that Jess would use to describe herself. Although Jess has fit right in with her Scarborough team, she says she suffers from a constant misinterpreted resting face.
"You know I'm a pretty friendly person. I'm open once I warm up to people but I have to work on smiling more." From what her fellow interns can see, Jess's smile shines every time she goes out.
Understanding the barriers kids today face, Jess has first-hand experience with the limitations to sport due to costs. "When I was younger I never considered trying out for Team Ontario. It was just so expensive. Now, I have the opportunity to help kids keep playing."
Jess brings compassion, drive, and a hunger for success to supporting the Scarborough Team and TIRF's Community Rugby Program. Her confidence and curiosity are the driving force behind her personal success and collective impact she is having on helping to build community through rugby.
Written by: Tash Cyrille