On July 20, more than 80 summer campers had the chance to play Rookie Rugby with Canada's bronze medalist Olympian, Ghislaine Landry.
TIRF hosted Ghislaine Landry, captain of Canada's 2016 Olympic Women's Rugby Sevens Team, at the Leap into Literacy summer camp at Branksome Hall. With the weather in question, the afternoon began with a Question & Answer Period with the bronze medalist.
As the rain began to subside, it became clear the day wouldn't have been complete without a chance to take the field with the Sevens star. Taking full advantage of Branksome Hall's facilities, Landry and the TIRF staff, delivered a Rookie Rugby experience to more than 80 campers. It wasn't long before Landry donned a flag belt and jumped into games of flag-tag, dog and bone and 10-pass.
In the opinion of TIRF Rugby Facilitator Zach Zorbas, the day was a massive success. "It was great to have Ghislaine come out and showcase the achievements of the Women's Sevens team. They are a world-class squad and shining examples for young athletes."
The Canadian Women's Sevens Team has seen tremendous success in recent years. They finished third overall in the 2016-2017 HSBC Sevens World Series, winning a leg of the tournament in Sydney, Australia. Individually, Landry was named to the Clermont Sevens Dream Team, where the Canadian squad finished third after a convincing 36 – 7 victory over host nation France. If that wasn't enough, as of this year, Landry has scored the most points (844) of any player in the history of international women's sevens.
To say TIRF Staff Lead Anoke Dunston was pleased with her presence at the demonstration would be an understatement. "It was amazing to get the Leap in Literacy summer campers to meet someone of Ghislaine's stature within the sport. She's an Olympian. That carries weight with everybody, even if you're not a rugby fan. It'll go a long way with regards to inspiring these summer campers to stay involved and pursue the game."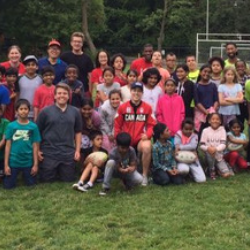 While this is valid for all youth looking to try rugby, Landry in particular, serves as a role model to young women and girls who have a desire to play.
"She (Landry) is a real person, and she's relatable," said TIRF Rugby Facilitator Natasha Cyrille. "She exemplifies what young female athletes should aspire to be like, and she's living proof that rugby is very much a sport for women."
Written by: Matt Sneath