TIRF was one of the main sponsors for the second annual Rugby in the Square at Nathan Phillips Square.
The second annual Rugby in the Square, organized in partnership with Rugby Ontario, brought flag rugby to Nathan Phillips Square for the second year in a row on July 5, 2019. TIRF staff helped set up the fields, provided by Synthetic Turf International Toronto, the evening before the event, and arrived bright and early the next morning for final preparations. Before the tournament kicked off, Joga House led participants in a series of static-dynamic stretching exercises to warm up.
A total of 18 teams participated in the tournament. TIRF fielded our own team, and also provided players to partners in need of substitutes. TIRF's own Mathuran R. had the great luck of being on the winning team, Eventi Capital Partners. In the afternoon, the competition paused for the Mixed Abilities Rugby Showcase. The Showcase is the first of its kind in Canada and included members from each registered team and members of the Thrive Program at the Abilities Centre. Participants started the showcase by introducing themselves--with a rugby ball in hand. Players next got the chance to work on their defensive skills during a game of "flag grab" before the games began.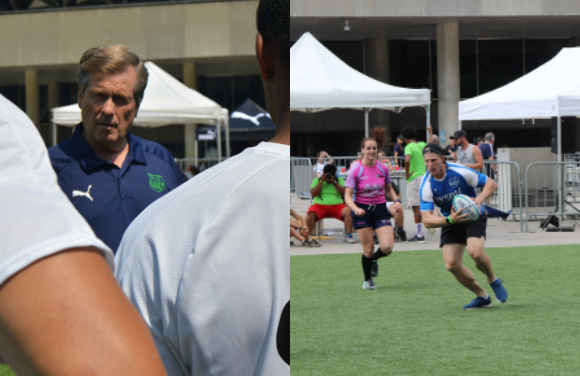 The Toronto Arrows, Toronto's own professional Rugby Union team, showed their support from a tent nearby Field 3 while their star back row forward, John Moonlight, took the field with Eventi Capital Partners. Toronto Mayor John Tory visited as well and gave his thanks to TIRF for the work we do in communities across the City of Toronto.
TIRF would like to thank all the event partners: Rugby Ontario, the Abilities Centre, Synthetic Turf International, Quinn's Steakhouse & Irish Bar, Elite Training Systems, Gilbert, SportSide Medical Services, the City of Toronto, Medallion Print Solutions, and Puma. Thanks also to the corporate teams: Gowling WLG, Hatley, Waypoint Investment Partners, Little Blue House, Brook Restoration, Dineen Coffee, CIBC, Eventi Capital Partners, Home Instead Senior Care, Abbot Environmental, Penalta Group, TripleFlag Mining Finance, State Street, Velocity Trade, Sherrard Kuzz Employment and Labour Lawyers, Rugby Ontario, and Puma. Thank you all for making Rugby in the Square a success!
Written by: Jay Neemayer