TIRF ended the school year, and the month of June, with a day on the beach.
TIRF celebrated the beginning of summer at Woodbine Beach on June 28, the Friday before Canada Day weekend. TIRF's newly-trained high school staff had the chance to meet the rest of the team--including Paul Myers, who made a visit in the afternoon.
TIRF started the day playing capture the flag. The Scarborough and Don Valley regions formed the majority of the two teams; staff from the Western regions were "free agents" and could choose which side to play for. Don Valley's team, led by Arielle D.-B., opted to assign offensive and defensive roles to players, with defenders roaming across the territory and converging on Scarborough's threats as necessary to defend the flag. Neither side was able to attain the flag after half an hour, so referee Thomas D., who wasn't playing due to a minor knee injury, added two safe zones to each half.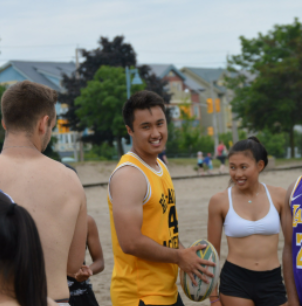 Scarborough's side won by cleverly gathering several players in a safe zone. Everyone left the safe zone at a dead sprint, causing confusion as Don Valley tried to find the person with the flag. After capture the flag, the day was free. Unsurprisingly, most TIRF staff opted to play touch rugby until an early afternoon storm crept in to end the fun. Dashawn S. brought an agility ladder; he spent most of the afternoon working out with Kevin G., Nate A., and Mati G.
Two Frisbees provided entertainment for those who didn't participate in the touch games. Shahdab S. and Gabe D. showed some skills and helped teach others, including Hailey S. and Abyan C., the basic throws in Ultimate Frisbee. Despite the day ending early, TIRF staff had an enjoyable and active Friday.
Written by: Jay Neemeyer