TIRF spent Sunday at the Hijabi Ballers Sports Festival, introducing Muslim women and girls to rugby during the Festival's four-sport tournament.
TIRF is proud to partner with other Toronto-area organizations which seek to increase physical activity and empower underrepresented groups. Both these goals are exemplified by the Hijabi Ballers, who seek "to recognize and celebrate the athleticism of Muslim girls and women." As part of their mission to increase representation and participation of Muslim women in sport spaces, the Hijabi Ballers have held their Sports Festival for the past three years which is highlighted by a four-sport tournament. The 2019 Festival was held July 7 at Go Green Youth Centre.
TIRF had the great opportunity to referee the flag rugby games of the tournament for tears from throughout the Greater Toronto Area, including a team from Detroit. For many participants, this was their first time experiencing flag rugby. Rugby Facilitators Alexa, Arielle, Kat, Khadi, Nafiza, and Rebecca enthusiastically explained the rules and demonstrated techniques. At one point during the tournament, only one team was ready to play during their allotted time. Rather than disappoint the young women who showed up to play, TIRF jumped in to play against them.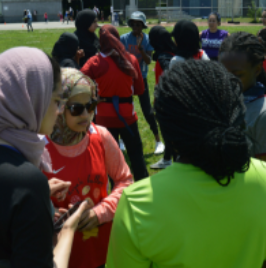 Several participants showed interest in learning more about rugby as they left the field. TIRF is incredibly proud to have partnered with the Hijabi Ballers and introduced so many young women to rugby on Sunday.
Written and photos by: Jay Neemeyer