Flag rugby has come to an end for the 2018-2019 school year, but TIRF will have programming all summer!
TDESAA's flag rugby season finished Wednesday, June 19 at Rose Avenue Public School's tournament. The host school fielded two teams, with Pape Ave Junior Public School and Eglinton Junior Public School rounding out the four-team field.
TIRF Staff refereed the games and assisted the team's coaches, with Rugby Facilitator Mati G. acting as Field Marshall for the day. TIRF's Gabe D. and Abyan C. visited Rose Ave earlier in the week for demos and chose their teams on Tuesday. Before the teams started competing, TIRF staff mixed students from all three schools in four groups to run skills-focused games.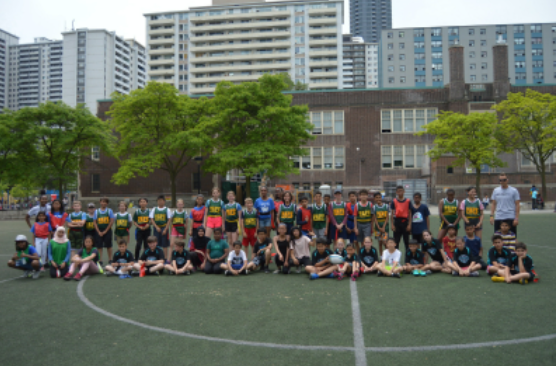 For the competitive part of the day, teams played three games in round-robin format before the top two teams met in a single final match. In addition to Gabe D. coaching Rose 1 and Abyan C. coaching Rose 2, Arielle D. advised Pape Avenue and Ubaid assisted Eglington Coach Chad Mallen.
The first game, between Pape and Rose 1, ended in a 2-0 win for Pape. On the other field, Eglinton tied Rose 2. Eglinton had played its first tournament ever on Thursday of the pervious weeks. After the first games, Mati G. announced it was time for lunch.
Following lunch, Rose 1 lost a close, 3-2 game to Eglinton, while Rose 2 recorded a 5-3 win over Pape. To finish round robin play, Rose Ave 1 played their friends from Rose Ave 2 (Rose 2 won) and Eglinton beat Pape.
At the end of round robin, Eglinton and Rose 2 had recorded two wins each and thus faced each other in the last game.
Rose 2 was very effective at using the sidelines and scored their first try within the first minute of play.
"We've got to get to the edge!" Coach Mallen implored as Rose 2 continued to make runs up the sideline. Rose had the lead at halftime, but Eglinton adjusted in the second half and made the score close. Ultimately, Rose 2 won the game and became champions of their home tournament in the final tournament of the 2018-2019 school year.
TIRF will be at Rose Ave often this summer: we've recently added it as a House League location!
Final Standings:
Rose Avenue 2

Eglinton

Pape Avenue

Rose Avenue 1
Written by: Jay Neemeyer