Birchmount Stadium hosted the first ever TDESAA Flag Rugby Championship for Grades 5 through 8 on Friday, June 14.
The morning after the Toronto Raptors became NBA Champions, four TDSB schools claimed flag rugby titles for Grades 5, 6, 7, and 8 at Birchmount Stadium.
The day started with North Agincourt playing Lord Dufferin on Field 2 in the Grade 6 semis. Lord Dufferin held the lead at halftime and finished the game with a win to move on the to Grade 6 finals.
The Grade 5 finals began on Field 1 a few minutes after the G6 semifinals began. Gledhill, the winners of the previous day's round-robin tournament, faced John D. Parker Junior School from the North. Gledhill led at halftime, but the John D. Parker Jaguarsplayed a strong second half to win the game and claim the first banner of the day.
Gledhill received its second banner in two days as the City Finalists.
Soon after the end of the Grade 5 Finals, the Grade 6 final matchup between Lord Dufferin and Northlea began. A few players from North Agincourt came to the sidelines of their grade's finals. Their enthusiastic cheers of "Let's go Lord Dufferin"--the team they had lost to not long before, showed how deeply the value of sportsmanship is held. TIRF staff member Arielle Dubissette-Borrice also came to the Lord Dufferin sideline, acting as self-appointed coach.
A tie at halftime showed how well the teams were matched. Northlea took the lead in the second half, and players on the sidelines were anxious to know how much time remained in the game. Northlea held on for the win, despite a final-play try by Lord Dufferin. Northlea players' smiles were as bright as their neon-green shirts as they celebrated their victory.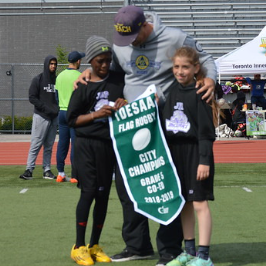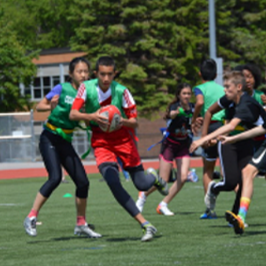 In the Grade 8 Tournament, TIRF Staff Esther and Selena aided Humber Summit MS as community coaches; Hodgson MS and Glenview MS faced off in the final game. Glenview took the title.
The final game of the day came on Field 1 between the 7th graders of Cedarbrook and Glen Ames. In a high-scoring game, Cedarbrook prevailed. During the banner presentation, Cedarbrook coach Andrew
Bushe mentioned that Cedarbrook fielded two teams, an 'A' and a 'B' because there were so many players. He also looked to the deep sideline of Glen Ames and said, "It's amazing to see so many kids playing flag rugby."
Written by: Jay Neemeyer